To those of you who have been following me, you know that it's my "mission" to correct false, untrue, made-up, make-believe and otherwise insane or ridiculous teachings that have
infected
Christianity.
False teachings which include, but are not limited to:
Strictly following the 10 Commandments makes God happy
Speaking in false-tongues shows that you are truly saved
The more you give to your church, the more you'll be rewarded with cool stuff
There is no Hell (lol, sinners could only wish!)
The KJV is the only perfect Bible (lol, it's full of translation errors)
Pastors are always supposed to be happy and make you smile (because they're robots)
If you dream it, you can achieve it (dear Lord, that's Amway!)
The Bible says something different to each one of us (whew)
Homosexual "love" is love perfected by God (???)
God says we all go to Heaven (yeah, I know...)
Jesus and Satan are brothers and God is from another planet (seriously Mormons?)
But sometimes people send me things and it makes me want to shine a light on some of the insanity that Religion brings to people. Now be warned, some people out there will consider telling you the truth in such an obvious way, without coloring it or making it seem different than it is, would be considered blatant hate-speech. This is nothing of the sort! If truth is hateful, then what is lying? Love? Anyway, in today's example, not just a few people believe this insanity, but more than 1.6 Billion people!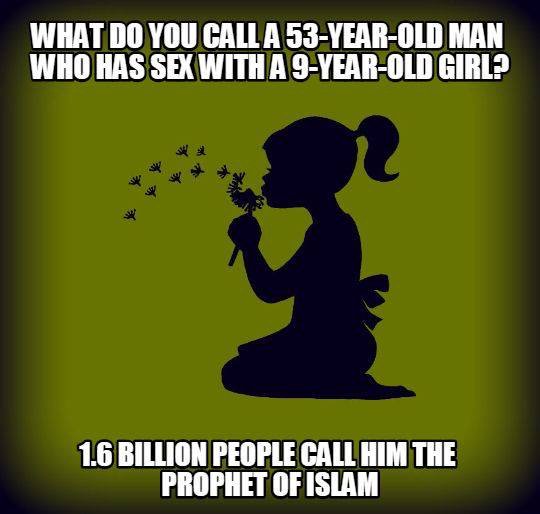 Every Muslim man has the dream, that their sons should be as "holy" and "pious" and "perfect" as Mohammed, but at the center of the "religion of peace", you will find a whole host of insane concepts that all true Muslims have been taught to respect and indeed attempt to carry out in their own lives.
Anyway, according to the books that Muslims use to learn from and enhance and increase their faith, we come to learn that Mohammed took a "wife" of a young girl named Aisha. The general public will tell you that Aisha was a ripe and mature 9 YEARS OLD when Mohammed married her, but if you do just a tiny amount of reading, you'll find out that she was really only 6 YEARS OLD! (Sahih Al-Bukhari, Volume 5, Book 58, Number 234 and 236) Apparently, it's a Muslim tradition that a girl can not get "officially married" unless and until she has had her first period. Because as everyone knows, the love of a 53 year old man and a 6 YEAR OLD GIRL would be beautiful in the eyes of God, RIGHT? No... Not right. In our society we call it RAPE, as a 6 year old (or even a 9 year old) is not capable of CONSENTING to anything.
If you'd like to fool yourself into thinking that this no longer happens in predominantly Muslim countries, you're really only fooling yourself. When radical Islamist groups that promote terror tell us that they hate Western values, is it any wonder, especially when they would have to stop their unconscionable acts towards each other?
Remember one thing about what I've just shared with you, this example of insanity isn't something that "crept into" Islam, it's part and parcel a foundational piece of it!
So when you hear the liberals and new agers begging everyone to "agree to disagree" or to "just get along" or "why can't we just respect one another?", how can you agree with, get along with or even RESPECT someone who thinks it's okay to RAPE 9 year old girls? There is NO WAY to make this behavior or thinking into something that is POLITICALLY CORRECT. If Mohammed was around today, if he wasn't already dead, he'd be on death row awaiting either the electric chair or a lethal injection. How anyone (much less 1.6 Billion Muslims) could love and revere this rapist, is one of the best representations that I can think of, about how RELIGION is nobody's friend.
To anyone who thinks that Satan isn't real or that he never walks among us, take a good hard look at Mohammed. As a matter of fact, Satan was so proud of his "great works" that he wrote a book all about it! It doesn't sell as many copies as the Bible does, but Satan does alright. The name of the book? "The Qur'an" of course.
1 Peter 5:8 - Be sober, be vigilant; because your adversary the devil walks about like a roaring lion, seeking whom he may devour.
Job 1:7 - And the LORD said to Satan, "From where do you come?" So Satan answered the LORD and said, "From going to and fro on the earth, and from walking back and forth on it."
Comments?
You know what to do! (just keep them clean, this is a family oriented Blog)